Custom Furniture
Furniture Maker
































Custom Furniture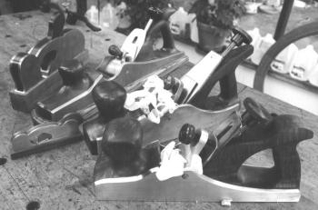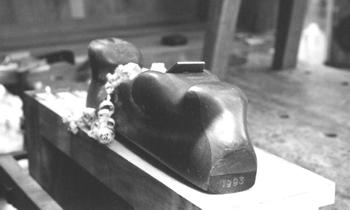 I build most of the handplanes used in my work. They are evolved designs from Norris or Spier pattern planes used the last two centuries in Scotland and England.

Commonly referred to as woodstuffed or infilled. They consist of a brass shell dovetailed and silver soldered together. This shell rings as a bell, so uniform it's substantial frame. The inside works: the handle, blade, tote, etc. are then fitted or "stuffed" into the metal shell.

This process produces a plane superior in every way. Buttery smooth action. A heft and fell unsurpassed. The everyday integrity for the keenest work. Other lesser type planes are thought of as toys.

It takes 3-6 weeks to make a handplane in this "stuffed" fashion. Mine are larger and more refined than the old patterns. Modern alloys makes for splendid blades with wonderfully acute edges. My everyday user, an oval sided Fore plane, weighs 20 pounds. It cuts the most difficult materials cleanly and with outstanding accuracy.

I recently finished a Smooth plane. The blade angle is set a bit steeper than normal, specifically for the highest figured wood. It has a slight triangular shape to it's base - wider at the tote, narrower at the handle to facilitate graceful movement over near finished pieces.

The higher blade angle demands a thinner cut and a narrow mouth. An exacting fit that took close to a year of trial and error to accomplish.

The results from this metal, wood stuffed smoother is awesome. A plane reserved for the final finish. All imperfections in the wood are removed with the last few passes. Translucent curls of gossamer thin shavings rise from the planes throat.

The wood surface left behind brings forth song to the heart.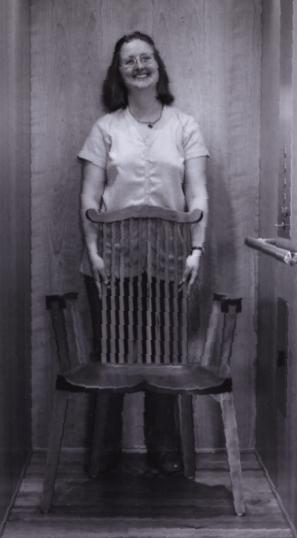 Tom Hannah
P.O. Box 4054
Estes Park, CO 80517
970.586.2741